In-house COIL Tubing services allows Element to control the quality of service, equipment utilization and optimization of the FRAC Design. Our integration of the fracturing and COIL Tubing services offers the following Element Advantage:
EXPERTISE: From management to field staff, our team is dedicated to applying that knowledge to assist in your needs.
CUSTOMIZATION: Element's COIL Tubing Division will build and design fit for purpose CT strings tailored to the operations.
EFFICIENCY: Our extensive Maintenance Program designed for dependability and efficiency further enables Element to avoid unnecessary downtime.
Element Coil and Pumping Services
knows every operation requires a unique solution and that different stages of your completion or workover involve different equipment and requirements. This is why we designed our Hybrid Coil Tubing Unit. With the same Rig, we can offer Masted Coil and Conventional Coil Operations, providing flexibility at the wellsite based on your operational needs at that phase of the completion.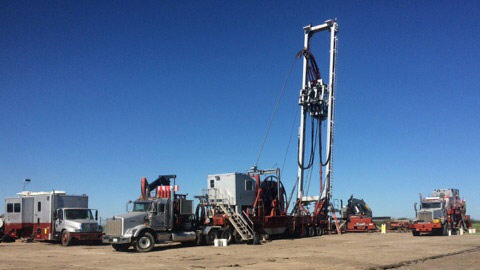 Element knows what it takes
to efficiently reach TD on your most challenging wellbore. We pioneered the 3-mile horizontal completion back in 2019, and have completed many since. Our in-house, real-time job monitoring software keeps a close eye on every detail of the wellbore and equipment to ensure we are maintaining maximum efficiency on the wellsite. Our software is designed to monitor current operational parameters and forecast upcoming events so we can prepare for a friction lock-up or heavy pull on the well, and at the same time we are also monitoring our equipment diagnostics so we can best support our crews in the field.
Element Pumping Services Offers:
Key Features
Hybrid Rig – Masted or Conventional
130,000lb Injector Heads
10K and 15K Pressure Control
Equipment
600HP Single and Twin Triplex Fluid Pumps
800HP Twin and 1000HP Twin
Electrified Chemical Van for liquid
Add On-the-Fly
Leading edge real-time monitoring
Shifting Sleeves – Element is the leader in well completions utilizing shifting sleeves. We have Coil strings, pressure control equipment and expertise to execute frac-thru coil or down annular
Sand Cleanouts
Coil Tubing Milling
Acidizing
Underbalanced Drilling & Milling
Diagnostic Facture Injection
Wireline Pump Downs
Flexible Scheduling to Cover any Job
| | |
| --- | --- |
| Coil Rig | CT Capacity |
| 2″ | 26,248′ |
| 23/8″ | 21,654′ |
| 25/8″ | 17,061′ |
| 27/8″ | 14,764′ |
| BART | CT Capacity |
| 2″ | 37,448′ |
| 23/8″ | 24,600′ |
| 25/8″ | 21,282′ |
| 27/8″ | 18,570′ |
The Element Experience Includes:
State of the art equipment
Trained, qualified, knowledgeable crews and staff
Outstanding safety record
Strategically located laboratory (directly integrated with field operations)